WATERTECH WITH THE WORLD BEST KAYAK MAKER
WATERTECH COLABORA COM A MAIS PREMIADA MARCA DE KAYAKS DO MUNDO
Notícias da Watertech! Rui Calado e Pedro Castro não páram. E, lá para sexta feira, mais notícias da W...
---------
WATERTECH NEWS
Já é oficial que temos um novo fabricante de kayaks a trabalhar connosco...Quem melhor do que o maior fabricante de kayaks do mundo?
Estamos a falar, claro, da NELO, o líder mundial no design, desenvolvimento e fabrico de kayaks de alta performance. A NELO já faz os K1 mais rápidos do mundo, kayaks de slalom para os melhores atletas, bons kayaks de mar e agora chegou a altura de surfar com a Watertech...

A partir de agora os kayaks Watertech são feitos com as mais recentes tecnologias disponíveis: desenhos assistidos por computador, moldes feitos numa CNC gigante, as melhores resinas e materiais, muitos anos de experiência... E além disso, novos pormenores e interiores mais práticos e com um banco facilmente ajustável...

It is now official that we have a new factory making our surf machines. What better then the best kayak maker to work with us?

We are talking of NELO, the global leader in the design, development and manufacturing of high performance racing and touring canoes and kayaks. He is already making the fastest K1 for sprint in the world, the best Slalom boats, very nice sea kayaks and now it is time to surf with us...

From now on our Watertech Kayaks are made with the latest technologies available: computer assisted designs, moulds shaped on a giant CNC, the best resins and materials, many years of experience… And besides that, improved details and new kayak interiors with one easy adjustable seat and some other nice surprises...
Watertech site: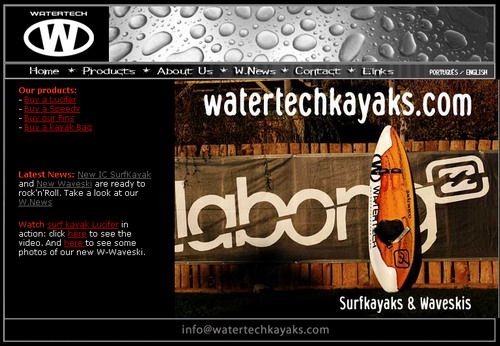 KAYAKSURF ARGENTINO /

SURF REPORT
Boas ondas,
luis pedro abreu
www.kayaksurf.net