BEST PHOTOS & REPORTS 2009 / CHECK IT OUT!
SELECIONADAS PELA NOSSA NEWS TEAM: AS MELHORES FOTOS E REPORTAGENS DE 2009 KAYAKSURF.NET




Não foi nada fácil! O ano foi de grande colheita com dois mundiais pelo meio - kayaksurf em Portugal e Waveski na Austrália - mas as escolhas aqui estão. Obrigado a todos pela colaboração! Mais em baixo, o LINK para a secção onde estão as fotos e cartazes das melhores reportagens e duas simbólicas mensagens por parte de Tim Harvey (vencedor da melhor fotos) e John Watson (NEWS TEAM kayaksurf.net).

It was not easy to choose for sure! Last year was really great... two world championships (kayaksurf in Portugal and waveski in Australia), loads of excellent photos and awesome reports. All this work is mainly thanks to our NEWS TEAM. Really great. A BIG THANK YOU to all of you and now, let's see the results ;)

http://www.kayaksurf.net/Non.html

1s photo (photographers websites)
http://www.photof8.co.uk/

2nd photo
http://www.peniorphotography.com/

3rd photo
http://www.stonefishfoto.com/



Tim Harvey

Dear KayakSurf.net,

I am honoured that one of my photographs has been chosen as the 'Best Photo 2009', especially as there are so many good photographers contributing great photographs to kayaksurf.net

This photograph of Darren Bason was taken during training at the 2009 World Championships at Santa Cruz in Portugal. This was an amazing event and it was wonderful to have the opportunity to photograph so many world class surf kayakers.

Thanks to Luis and the team at kayasurf.net for publishing my images, and for running the Nº1 surf Kayak magazine!

Regards

Tim Harvey
http://www.photof8.co.uk/

---------



Message NEWS TEAM KAYAKSURF.NET from England:

There is no competition for the best report: - Santa Cruz Ocean Spirit by Luis Pedro Abreu and others.

The daily reports kept everyone at the Kayaksurf Worlds '09, and those who could not be there, informed and entertained. On behalf of his readers and friends all over the world, it's an opportunity to thank Luis Pedro for his time and attention in bringing us the news and pictures throughout the year. Kayaksurf.net is the first place we look to keep in touch - thank you!

John Watson / News Team kayaksurf.net / England
www.skernlodge.co.uk

THANKS NEWS TEAM KAYAKSURF.NET OBRIGADO!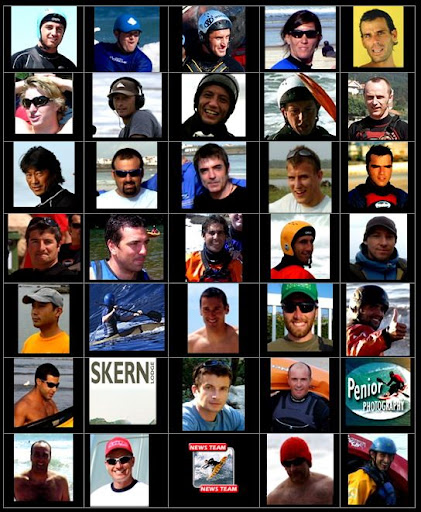 KAYAKSURF GALIZA
Etiquetas: BEST OFF 2010, NEWS TEAM, PHOTOS, REPORT