WORLDS 2009 / SANTA CRUZ, PORTUGAL / NEWS FROM WSKA
ÚLTIMAS SOBRE O MUNDIAL DE KAYAKSURF 2009 / INSCRIÇÕES ATÉ 28 DE FEVEREIRO


Pete Blenkinsop, actual presidente da Associação Mundial de Kayaksurf (WSKA), enviou-nos mais novidades sobre o Mundial de Kayaksurf que decorrerá em Santa Cruz de 23 de Julho a 2 de Agosto. Para já, atentem nas datas para inscrições e número (mínimo) exigido para a formação de equipas.

--------------------

2009 Contest - Santa Cruz, Portugal, July 23rd to August 2nd.

We have set

28th Feb 2009

as the deadline for initial team registration for all teams that want to enter. Please let us know your team representative name and details and send us a deposit of €200 before this date. We will post the way to pay the deposit very soon.

The 23rd June 2009 will be the final date for bids for next worlds and submission of proposals for any changes in how the competition works.


For all the latest news on the competition please go to the WSKA web site,
http://www.wska.org/

All the lastest up-dates will be there

The minimum team size is going to increase this year from 4 to 6 people.

All the rules are on the web site (and have been for a long while) no big changes from last time.

Hope to here from you all soon and see you all in Portugal.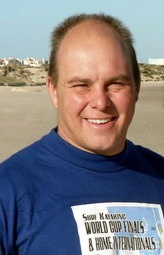 Pete
Blenkinsop
(WSKA Chairman)

---------------------

Thanks Pete! See you in Portugal.


OSKAR MARTINEZ ESCREVE-NOS SOBRE KAYAKSURF
OSKAR MARTINEZ WRITE FOR US ABOUT KAYAKSURF

Boas ondas!
Etiquetas: KAYAKSURF, MEDIA PARTNER, WORLDS 09