KAYAKSURF IN GALIZA / SPAIN / MEETING THIS WEEKEND
KAYAKSURF & FREESTYLE EM RAZO / CORUÑA / GALIZA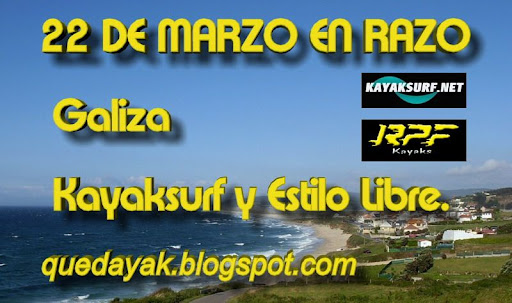 Mais uma inicitiva dos nossos amigos da Corunha. Desta vez, Javi, Jorge, Iago e companhia, organizaram uma "quedada" de kayaksurf e freestyle na praia de Razo. O evento conta com o apoio da RPF Kayaks e do kayaksurf.net.
São esperadas ondas entre 2-3 mt para domingo na costa NO de Espanha mas eles lá estarão!

From the NW of Spain, came an invitation for surfing in Razo beach. The event is about kayaksurf and freestyle and the swell estimated is about 2-3 mt. We are already waiting for the photos!!

PROGRAMA:



EL 22 DE MARZO EN RAZO



TIPO DE PRÁCTICA: Kayak Surf y Estilo Libre.
FECHA: 22 de marzo.
HORARIO: de 11:00 a 14:00
LUGAR: Playa de Razo.
PERSONAS DE CONTACTO: Iago 686 466 065 y Javier 630 745 540
NOVATOS: Si eres novato anímate, tenemos el kayak que necesitas y te ayudaremos en lo que Podamos.
MATERIAL PARA PRÉSTAMO: Consultar.
NOTAS: Al acabar la sesión nos tomaremos una caldeirada en un local que está al lado de la playa. Apúntate!!


Chisco a surfar em Razo / Foto de Miguel Navaza


CLICA em baixo e visita o blog QUEDAYAK
Boas olas!!


SURFRIDER ARGENTINA
Boas ondas,
luis pedro abreu
www.kayaksurf.net