SCKSF 2009 / REPORT by ROBERTA BORSARI
SANTA CRUZ KAYAKSURF FESTIVAL 2009 / REPORT de ROBERTA BORSARI + DENNIS JUDSON



O grande evento está quase a começar e Roberta Borsari envia-nos mais um report em cima do acontecimento directamente de Santa Cruz, Califórnia. Dennis Judson também acabou de nos enviar o convite para o jantar de abertura da edição deste ano do SCKSF. Aproveitamos as duas mensagens e damos a conhecer o que se passa na Califórnia.

Another report from Santa Cruz, California. Roberta Borsari, great friend and kayaksurf.net NEWS TEAM member, describe us her first days in Santa Cruz. The places where she went and how good was surfing with Dave Johnston!

Below is also the invitation that Dennis Judson sent us that concerns to the first great dinner party of the event.

--------------



Crónica de Roberta Borsari
Directamente de Santa Cruz, Califórnia



Parte dos atletas comecaram a chegar no domingo, dia 15 de Março para aproveitar a semana de surf na Califórnia e os treinos para o maior festival de kayaksurf realizado anualmente nesta época. Comigo não foi diferente! No primeiro dia de surf normalmente todos seguem para Davenport, pico preferido dos canoistas e foi pra lá que segui.



Davenport

Tive oportunidade de encontrar Dave, grande kayaksurfista, amigo e local de Santa Cruz. Fomos em busca das melhores ondas e a (boa) surpresa foi surfar em Scott Creeck sem nenhum surfista somente com a companhia de alguns golfinhos e focas.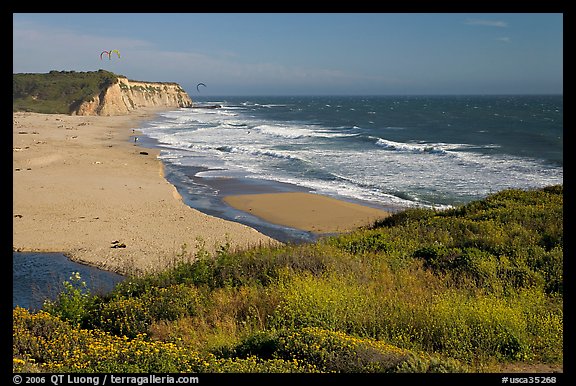 Scott Creek

Tivemos ondas que atingiram até 1.5m na maior das séries nos revezando nos drops e foi um verdadeiro playground além do privilégio de poder ver o surf de gala de Dave. Nao temos registros das ondas...desta vez e só na mente mesmo... Os dias de sol ajudam a disfarçar a água extremamente gelada. Enquanto os atletas estão chegando o swell vai perdendo força... Steamer Lane não está quebrando, mas sem surfar ninguém fica, pois a costa da californiana não deixa ninguem na mão...



Agora estamos no momento de reencontrar os amigos, treinar e já se comenta muito sobre o mundial de Portugal tb, e claro, a prova de Santa Cruz!

Bj! Bebeta

-------------------------------



Invitation by Dennis Judson

:

To one & all,You are all invited to the traditional pre-contest feed at the Crandall's. Betty Crandall, the matriarch of the fold, cooks up every confort food for the world of kayakers and invites you all to come and enjoy each other for an evening at her spacious house in Aptos/Freedom. It's a wonderful start to the weekend of competition. The sounds are of laughter and a cacophony of foreign human dialects. Come and enjoy-there will be plenty of food and conversation to go around. Annual kayakers' dinner at the Crandall home:

When? Wednesday March 18th, at 6 p.m.
Where? 450 Cox Rd. (off Valencia Rd.), Aptos, Ca. 95003Home phone: (831) 688-3643 (Jim & Bettie Crandall)

Thanks,

Jim and Bettie

Dennis Judson
Marketing Agent for Adventure Sports Unlimited and Host of the Santa Cruz Kayak Surf Festival
-----------

Thanks Dennis

/

Obrigado Bebeta e BOA SORTE na competição!!

Dennis Judson / Photo: Mickey Stowell



KAYAKSURF NA GALIZA

/

KAYAKSURF IN GALIZA, SPAIN
Boas ondas!
luis pedro abreu
http://www.kayaksurf.net/
Etiquetas: BEBETA, CALIFORNIA, KAYAKSURF, NEWS TEAM, SCKSF 09, USA WEST COAST