INTERFERENCE: A KAYAKSURF FILM / COMING VERY SOON!
LANÇAMENTO DO DVD MAIS ESPERADO DE KAYAKSURF PARA BREVE!



É um projecto de Joey Hall - NEWS TEAM kayaksurf.net - de há longo tempo. Contém quase duas horas de grande kayaksurf com imagens de Inglaterra, País Basco, Portugal, Marrocos e EUA. Tudo com alguns dos melhores kayaksurfistas da actualidade. Joey esteve connosco no Mundial no Ocean Spirit e confidenciou-nos que estava quase a acabar a montagem do dvd. Agora, quase no final, perda quase total dos discos... apesar dos backups, Joey teve que refazer grande parte. Mesmo assim, em breve estará disponível. Muito provavelmente, no início de Janeiro. Vamos esperar!! Em baixo, o relato de Joey na primeira pessoa.



Almost released!! After centuries of hard work, Joey is finishing THE most expected kayaksurf dvd fro 2010. Great rides in Portugal, Morrocco, USA, Basque Country, etc with some of the best surfkayakers of the world. After some "small" problems that Joey had, the dvd is amost there. Check the report from Joey and see how close it is!!



.............



INTERFERENCE... THE ODYSSEI!


by Joey Hall
I started Interference coming off what was probably the worst year of my life. My fiance had dumped me, my employment situation was miserable, I had major unexpected health issues, the list goes on. Anyway, we started in the fall of 2007. The past three years since have been crazy, exciting, stressful, interesting..... I've "gone dark" over the past few months, putting my head down to get this thing done.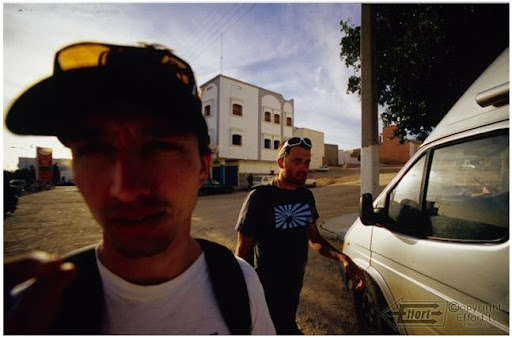 Spencer and Joey by effort.tv
Now, finally, after delays and problems and countless issues, Interference is sitting on my computer, completed. That's the good news. The bad news is...both my hard drives crashed in my editing desktop while I was burning what was to be the final (or at least next to final) DVD to be used as the master. I've spent the past three days in a funk, so close to the finish line I could practically taste the freshly pressed DVDs...and yet so far away.
Back to some good news though, I made backups of nearly all my files. The video is safe, the master files were on a separate hard drive anyway, and what I've lost is pretty negligible in the long run. All it means is I'm going to spend a few extra days restoring everything. Not a big deal in the scheme of things, but I was hoping to surprise everyone by having it available before Christmas. With any luck, and some help from the Postal Service) it will be out by new years day or soon thereafter.
Thanks to everyone who's been patient with me regarding this film. The major delay came from the fact that I had too much good footage....a good problem to have. I decided to add an entire extra destination to the film (Ecuador) that was not going to be in the original cut. The film is better for having added the extra footage. My original desire was to make Interference 45 minutes long. It looks like the final cut is now 1 hour and 55 minutes in length.
Watching the final version of the film gave me goosebumps, not because of the surfing shots alone (I'll let the audience judge for themselves (I think they are awesome (sorry, I said I'd let the audience judge, so carry on))), but more so because of the feeling of adventure, the memories, reliving the amazing things we saw. I had the most fun in my entire life on the trips depicted in the film. And I got to go on those trips with some of the most amazing surf kayakers, and best friends one could hope to have in their life. My hope is that people watching the video will feel a bit of that adventure, to get a little taste of what it's like to travel to far away places with your best surfing buddies.
I'm excited to release it into the wild, after all these years. I'm excited for people to see it. Will it be well received? I have no idea, I hope so. But regardless of that, I've made the film I wanted to make. The film that actually started back in 2002, when I truly fell in love with surf kayaking and thought to myself "I'd love to make a surf kayaking movie that shows how much fun surf kayaking is." I shrugged that thought off for so many years thinking "nah, I could never do that." Well, for better or worse (and if you look at how much debt I'm in you might think the latter), I've made Interference.
kayaksurfistas de luxo em Marrocos / Fotos: effort.tv

Not sure why I wrote this tonight, other than I'm bored as hell waiting for about a gazillion Gigabytes of data to finish restoring, I'll probably write some more after the DVD is out.
Thanks for the support, thanks for the pre-orders, thanks for the interest, thanks for the patience. Thanks to Yellowboy, Marc, Ninks, Spencer, Rob, Stuey, Pete, Ailsa, Luis from Kayaksurf.net, and everyone else who have been involved with the project, there's no way I could of made this thing without the help of so many people.
I'll announce when the master has gone off to press. And as soon as this thing goes out the door, I've got a second film, in the can, completely shot, waiting for me to edit it, hopefully this next one won't take nearly as long ;)
Oh, and you can order Interference in the US from
http://www.rapidtransitvideo.com/
Spencer and Effort Inc are distributing it in North America. Nathan Eades will be the distributor in the UK and I'll get copies over there as soon as possible

Thanks,
Joey Hall
DeadMan Productions

P.S. here's a little Interference math, things I've gone through in the process of this project:
60 Mini DV tapes
4 Terra-bytes of hard drive space
15 weeks traveling and filming
2 bouts with kidney stones
2.5 girlfriends
14 derogatory emails from Mickey Stowell
4 separate months long instances of my cat being pissed off at me for having been gone so long
2 world championships
who knows how many hours editing
4 instances of lost luggage (including boats)
10 passport stamps
2 cars
Countless days of not even bothering to look at the surf report because I knew the only surfing I'd be doing would be on the computer



TEASER
Almost done Joey!



PAÍS BASCO / SURF REPORT FROM BASQUE COUNTRY CONTEST
Boas ondas!

luis pedro abreu
http://www.kayaksurf.net/

Etiquetas: KAYAKSURF, MEDIA, NEWS TEAM, USA / EAST COAST