WORD KAYAKSURF CHAMPIONSHIP 2009 IN SANTA CRUZ OCEAN SPIRIT?
AS "NEGOCIAÇÕES" CONTINUAM A APOSTAR EM SANTA CRUZ PARA RECEBER O MUNDIAL DO PRÓXIMO ANO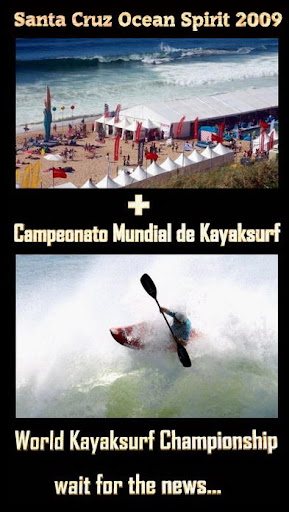 The discussion is still online but the stage of the next World Kayaksurf Championship 2009, will most probably be in Santa Cruz with the mega event Ocean Spirit Festival. The first choice (Peniche), has loose supporters after the huge media impact of the Ocean Spirit Festival. Dessie McGlinchey, Jonny Bingham, Darren Bason, Ed Long, John Watson, Roberta Borsari and Javi Diaz (besides all the portugueses, of course), are some of the great supporters of this new spot for the Worlds.
Let's see if all stays decided in France where the World Cup Finals run!
Watch this space!
As hostes britânicas já se deslocam ao nosso país para surfar há anos. Vieram cá em 2005 e logo limparam os dois primeiros lugares do III Campeonato de Peniche. Mas vejamos o percurso do kayaksurf "estrangeiro em Portugal"...
Basta clicar nas FOTOS para recordar os reports!
Peniche 2005 - Jorge Jorge (3º), Dave Jaggs (2º) e Darren Bason (1º)

Depois, em 2006, Peniche recebeu a Taça do Mundo de Kayaksurf.


Classe HP: Dave Johnston (EUA) 1º Lugar / Jonny Bingham (Irlanda do Norte) 2º Lugar


Em 2007, foi a 1ª Edição do Ocean Spirit / Kayaksurf Cup
Jonny Bingham (3º) + Dessie McGlinchey (1º) + André Pinto (3º) e Bruno Melo (4º) - Classe Open

E em 2008, nova Edição do Ocean e:



Novamente a presença de inúmeros atletas estrangeiros - Espanha, Inglaterra, Brasil e País Basco.

E agora... o Mundial de 2009, que estava apontado para Peniche, está na iminência (quase certeira) de se realizar no maior evento desportivo de ondas de toda a Europa: o Ocean Spirit.

Os contactos têm sido intensos entre as hostes britânicas e, do lado de cá, o kayaksurf.net, Rui Calado e Bruno Melo tudo têm feito para que o evento se realize nas melhores condições.

A reunião final onde tudo irá ser decidido decorrerá em França onde se realiza a Final da Taça do Mundo de 14 a 20 deste mês. Estejam atentos!

Boas ondas,

luis pedro abreu

www.kayaksurf.net
Etiquetas: MUNDIAL 09