WORLDS 2009 NEWS by RUI CALADO
MUNDIAL DE KAYAKSURF 2009 / NEWS por RUI CALADO


É para o ano entre 23 de Julho e 2 de Agosto e as selecções participantes já estão em contacto connosco para averiguar todas as informações sobre o evento. O kayaksurf.net - como Media Partner - e Rui Calado, como elemento da nossa NEWS TEAM e representante do nosso país no Comité da WSKA, irão fornecendo todas as informações sobre o Mundial.
Desta vez, e após os contactos de várias selecções neste sentido - como a da Irlanda do Norte, Canadá, Inglaterra, Austrália, etc - publicamos a mais recente notícia que o Rui enviou a várias selecções. Prende-se, entre outros assuntos, com os alojamentos e a possibilidade de termos um transporte directo e gratuito entre Santa Cruz e Torres Vedras.
WORLD KAYAKSURF CHAMPIONSHPS / NEWS FROM PORTUGAL
We are glad to welcome you guys here next summer. For the fees and inscriptions soon they are going to be available on the Ocean Spirit website, we'll pass that info as soon as the thing is going on. As for the accommodation, for now all I can do is pass a list of the hotels and similar available on and near Santa Cruz.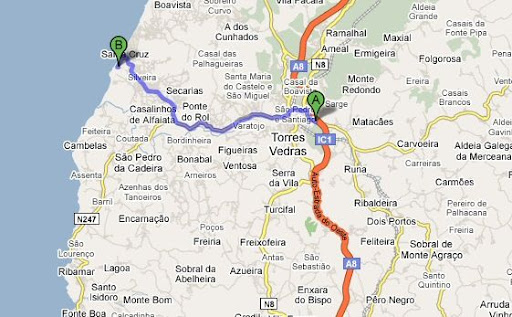 Santa Cruz - Torres Vedras = 18km
Take a look at this link:


http://www.cm-tvedras.pt/visitar/turismo/alojamentos
If you find some kind of trouble to arrange that please let me know and I can give you a help. We are going to have some kind of group transportation from and for all the hotels and pensions where the teams are going to be, to take them to the beach in the morning and at the end of the day. The kayaks and stuff can stay on the beach during the night (there is going to be a place for that). There is going to be some restaurants and bars working full day so you can have your meals right on the spot. If you want there is also some supermarkets nearby where you can buy some food.

This means that you don't need to have a rented car or van during all the event.

I'm trying to check if there is some apartments to rent on Santa Cruz, and I will give the contacts if I find them.

Please let me know if you have some questions and doubts. I will make my best to help...

Hope to see you soon.

Rui Calado

--------


CAMPEONATO PAULISTA DE KAYAKSURF / FULL REPORT!
Thanks Rui!