KAYAKSURF IN PANTIN / GALICIA / SPAIN
QUEDADA DE KAYAKSURF NA GALIZA ESTE FIM DE SEMANA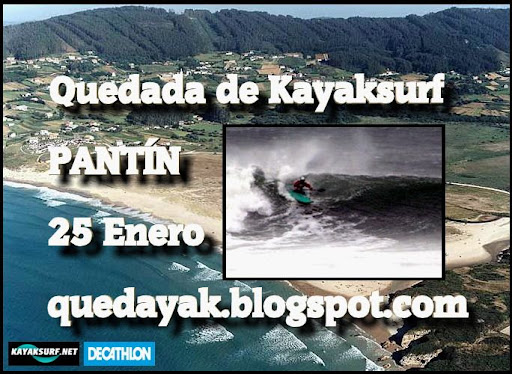 Aí está mais uma sugestão para este fim de semana. Será na bonita praia de Pantín, Galiza, e conta com a organização do blog de "kayakeros e kayakeras" quedayak.blogspot.com.
Data ALTERADA! Dado o swell de 5 mt previsto para este domingo, o evento será adiado para data a confirmar pela organização.
Tal como no ano anterior, estamos a apoiar o evento e, pena é que esteja tão mau tempo... mas Iago diz-nos no mail que têm spots alternativos à realização do evento. Vamos ao texto de Iago:

It will run this weekend (postponed) in Pantín, close to Coruña, in Galiza, one more event about kayaksurf. Simple kayaksurf session to promote our sport. The place where is going to be is beautiful and you can know more about this event for the mail: quedayak@gmail.com


QUEDADA DE KAYAKSURF

TIPO DE PRÁCTICA: Kayaksurf.
FECHA: 25 de enero - FECHA ALTERADA! O Blog quedayak.blogspot.com dará as novidades sobre outra fecha.
HORARIO: de 11:00 a 14:00
LUGAR: Playa de Pantín
PERSONA DE CONTACTO: Iago
TELÉFONO DE CONTACTO: 686 466 065
NOVATOS: Sí. Se aconseja ver la previsión por si la cosa se pone fea.
MATERIAL PARA PRÉSTAMO: Consultar.
NOTAS: Si la previsión es de más de 3 metros de ola lo más probable es que vayamos a Villarrube. Si hay temporal de viento se suspenderá la quedada.
--------------------
Todas as informações pelo mail: quedayak@gmail.com
. Iago e Javi, nosso elemento da NEWS TEAM para a Galiza, lá estarão!!


Obrigado Iago e boa sorte para o evento!


AS PRÓXIMAS ENTREVISTAS JÁ CONFIRMADAS
NEXT INTERVIEWS ALREADY CONFIRMED
Etiquetas: GALIZA, KAYAKSURF, MEDIA PARTNER