NEW INTERVIEW ON PLAYAK: VINCE SHAY
MAIS UMA ENTREVISTA KAYAKSURF.NET NO PLAYAK: VINCE SHAY
Mais uma entrevista kayaksurf.net publicada no PLAYAK. Desta vez, escolhemos a mais recente conversa que tivemos com Vince Shay, colaborador desde a primeira hora do kayaksurf.net - NEWS TEAM - e um dos mais reputados promotores do nosso desporto na costa oeste dos EUA. Surfa, escreve, filma e viaja. E agora está no PLAYAK!

One more kayaksurf.net interview published on PLAYAK. This time, we choose Vince Shay: kayak surfer, photographer and videographer from California, USA. Check it out the link below directly for Playak and watch this incredible video.


Vince Shay / Foto: Jim Grossman
CLICK BELOW AND CHECK VINCE SHAY INTERVIEW ON PLAYAK: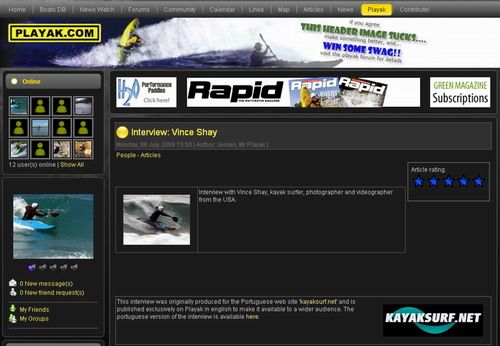 CLICK em baixo e recorde a entrevista de Vince Shay ao kayaksurf.net:


Thanks Vince!



MUNDIAL DE KAYAKSURF / KAYAKSURF WORLD CHAMP TEAMS

Boas ondas!

luis pedro abreu
http://www.kayaksurf.net/
Etiquetas: EUA, NEWS TEAM, PLAYAK, PROMO ENTREVISTA