WATERTECH SUPPORTS BIGGEST WAVESKI FESTIVAL IN EUROPE
WATERTECH PRESENTE NO ARMOR WAVESKI EUROPA CUP / FRANÇA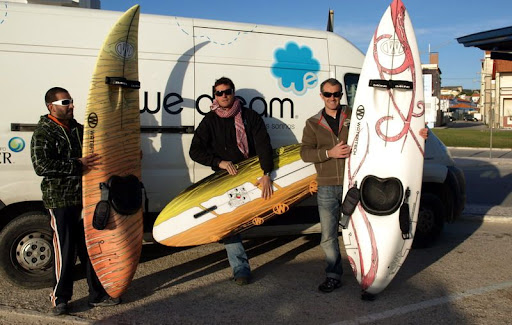 Pedro Castro, Bruno Melo and Rui Calado completly inloved by the new W-Waveskis ;) / photo by kayaksurf.net
Será de 22 a 24 de Maio e este ano, Fred Jonneaux terá mais um apoio com sede em Portugal: Watertech. Bastou a apresentação das novas máquinas da W e os contactos depressa se concretizaram. O maior festival de Waveski da Europa - que contou com a presença de Francisco Saraiva no ano passado - também servirá para a Watertech divulgar os novos raiders de waveski na marca. Já em

Dezembro

tínhamos publicado o cartaz que Fred nos enviara mas sem a confirmação do novo patrocínio mas agora está consumado! No maior festival de Waveski da Europa, duas "presenças" nacionais: Watertech e kayaksurf.net ;)

Watertech will support this year "Armor Waveski Europa Cup" edition. The biggest waveski contest in Europe will count, like last year, also with our support - kayaksurf.net. Below, the words from Rui Calado - one of the front Watretech front men:

"With our second generation W-Waveskis tuned up and ready to rock and roll, we are proud to be one of the sponsors of the Armor Europa Cup, happening next May in France. For the first time you will see our beautiful toys in competition in the hands of some very good riders... Who are they? This is a well kept secret... so far :-) "

More info:
http://pktrophy.com/index3.php
Fred Jonneaux e Matt Babarit na edição do ano passado
Mérci Fred et félicitations pour le noveau sponsor ;)



ARMOR WAVESKI EUROPA CUP 2010 Pre-event from fredjx on Vimeo.
CLICK:



Parabéns Rui!



KAYAKSURF & WAVESKI BRASILEIROS

Boas ondas!

luis pedro abreu
http://www.kayaksurf.net/

Etiquetas: MEDIA PARTNER, WATERTECH, WAVESKI