KAYAKSURF & WAVESKI / IRELAND
PROVA DE MAGHEROARTY / SURF REPORT





Esta foi mais uma prova que decorreu no passado fim semana (tivemos provas na Argentina, EUA, Brasil, Inglaterra e Irlanda!). O surf report de Brendan de Morgan O'Sullivan dão-nos todos os ecos de mais uma iniciativa do circuito de kayaksurf irlandês que conta com o patrocínio da Watertech.

One more contest was run last weekend (we had in the same date kayaksurf & waveski contests in Argentina, USA, Brazil, England and Ireland!). The surf report is from Brendan and Morgan O'Sullivan. We recall that the irish kayaksurf and waveski circuit is sponsored by Watertech.

--------



Magheroarty Comp / Surf Report



Last Saturday saw a small but committed group gather in the far north of the country, in Magheroarty, for the second paddlesurf competition of the year. Marty McCann had called the conditions well and while the rest of the country basked in glorious sunshine, we huddled together in and around his van, trying to stay out of the rain, though unlike the rest of the country, we had some swell!




The reef break was working, perhaps not quite to its' full potential, but certainly providing a workable wave and the sets in particular had some long waves with sections suitable for floaters and lip smashes. The event got started with the Short Boat competition, and some good rides were had. Richard Hobson and Lawrence McBride caught some great waves and showed why the lads from the North are doing so well internationally. Conor also rode very well and is definitely a name to be watched.

The final consisted of Richard Hobson and three juniors – Eoin Keyes, Conor, Ciaran. A particularly cruel individual remarked that Richard had more years than the other 3 put together!! The results are as below. In the long boat category Richard Hobson gave a demonstration of the kind of smooth aggression required to win and took home first from Eoin and Richard G.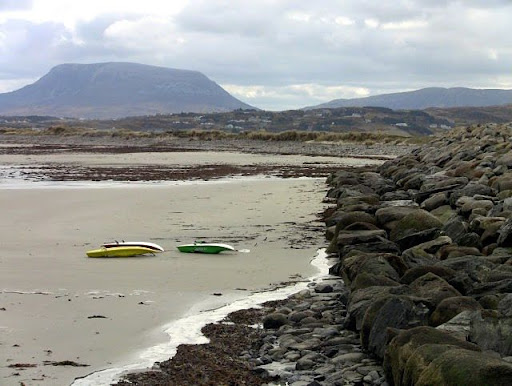 The waveskis came last and it was straight to the final as only 4 hardy souls (idiots/deviants!!) went out. As with the other heats it was all about wave selection, a couple of notable rides were had, local boy Marty McCann, who seems to be able to generate speed out of nothing, found enough go to get some floaters and throw in some awesome cut-backs. Next in the order came Guillaume who has obviously been spending a lot of time on his new ski, he rode extremely well to claim second. (Good stuff!) It must be noted that Aisling Griffin was the only girl at the event and she rode well, and consistently improved through the weekend – watch this space as she spends more time in the surf.

Please remember that Watertech have generously promised a kayak as the prize for overall (best newcomer) for the year and Munster Dive and Canoe are also onboard with prizes for the other categories. Lastly, there may be a 4th ranking event added to the calendar so keep an eye on the site and your e-mail.



RESULTS



Open S.B.
1.Richard Hobson
2.Eoin Keyes
3.Conor
4.Kieran
6.Brendan, Lawrence
8.Richard Greaves, James O'Donnell
9.Dennis
10.Ashling (L)

Open Waveski
1.Marty McCann
2.Guillaume Deprez
3.Brendan Barry
4.Morgan O'Sullivan

Open L.B.
1.Richard Hobson (M)
2.Eoin Keyes (J)
4.Richard Greaves

Masters S.B.
1.Richard Hobson
2.Lawrence
3.James O'Donnell
4.Dennis

Junior S.B.
1.Conor
2.Kieran
3.Eoin

Report by Brendan

-------------

Thanks Morgan and Brendan ;)



ALL ABOUT IRELAND KAYASURF & WAVESKI:
Etiquetas: IRELAND, KAYAKSURF, SURF REPORT, WAVESKI