MIYAZAKI CUP / JAPAN / 23.11.2008 / REPORT by SHOTA ONISHI
CAMPEONATO DE KAYAKSURF DE MIYAZAKI / 23 NOVEMBRO 2008 / MEDIA PARTNER: KAYAKSURF.NET / REPORT de SHOTA ONISHI




Miyazaki Cup / November 23th.



Shota Onishi e Toshi Nagaoke são os elementos da nossa NEWS TEAM para o Japão. Do lado de lá do mundo, virado para o Pacífico, o kayaksurf está a também em grande evolução. Novas marcas, cada vez mais praticantes e a realização de uma prova que já no ano anterior tinha dado cartas - Miyazaki. Tal como na prova do ano anterior, apoiámos o evento e aqui está report deste ano:


Miyazaki fica no SE do Japão
----------------------
SURFKAYAK Miyazaki CUP Committee / 23rd NOVEMBER
Foto: Shota Onishi

Sponsors:
WATER FIELD KAYAKS, Sea kayak UMIUSHI, Patagonia, Nada kayaks, Takashina Life Preservers Co.Ltd., FREE WAVE, KOA OUTFITTERS, UNKAI SHUZO CO., LTD, Penguino, KAI'TO, Surfkayak.info, Marine Lodge Aoshima, Zushi Canoe Club, Seektruth Inc., Nanok, RealBvoice.
Miyazaki Beach / Shota Onishi
Support:
Miyazaki Pref., Miyazaki City, Miyazaki Pref Education Committee, Miyazaki Sightseeing Convention Association, Miyazaki sightseeing association, MRT Miyazaki Broadcasting, UMK TV Miyazaki, FM Miyazaki, Miyazaki NichiNichi Newspaper, Miyazaki Cable TV Cooperation: Nippon Surfing League Miyazaki Branch, NPO Surfer's Network, Surf culture MIYAZAKI, Surf & Skate NEW WAVE, NPO Miyazaki Life saving Club.
Date:
Nov 23rd,2008
Miyazaki

The day before the event,Mr.Ogata,Chief Secretary of NSA (Nippon Surfing Association) Miyazaki branch lectured us about surfing judgement.Learning about surfing judgement is important for us to improve kayak surfing. The day of the event, It was small,but sometime good sets were coming in. Surfing skill of all attendees have improved. 10 NSA official judges judged our surfing. And they admired ability of kayak surfing. Some paddlers were beaten at 1st round.But they paddled consolation heats. Beginners and experts had same fun in this event.
Foto: Takabi

WATER FIELD KAYAKS prized a brand new surf kayak to the winner of open class,and a paddle to the winner of women's class. UNKAI SHUZOU prized bottles of shochu (an alcoholic beverage of Japan made by sweet potato) to prizewinners of all class. The local paddlers are keeping good relation-ship with board surfers and body boarders. We all thank their support.
Photo: Takabi
RESULTS:
[Open]

1. Shota Onishi
2. Kazunobu Nawata
3. Ken Sada
4. Toshiyuki Shimizu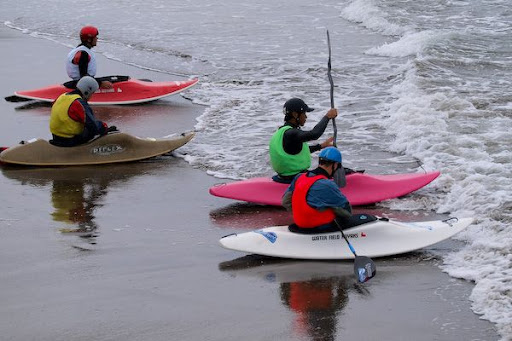 Foto: Takabi
[Women]

1. Leanne Brezina
2. Risa Yarita
3. Yukiko Kishida
4. Yoshiko Inoue
Foto: Takabi
[Beginner]

1. Michihiko Kuwabata
2. Yoshiaki Ota
3. Kazunari Uchikoba
4. Naoki Sugimoto
Foto: Takabi

[
Team Event]
1. Free Wave
2. Team Miyazaki
3. Team Fukuoka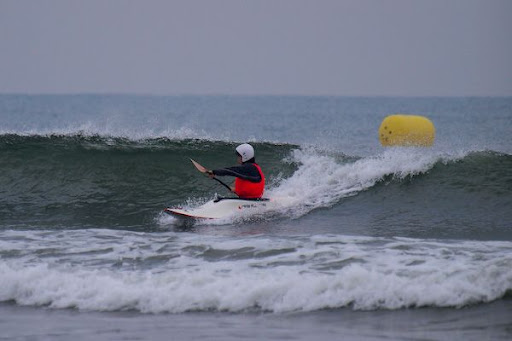 Foto: Takabi
[Grandmaster]

1. Hiroto Ishida
2. Kazuhiko Hayashi
3. Yoshiharu Mizuno
4. Katsuhiro Takese
Foto: Takabi
[Best Riding]
Kazunobu Nawata
Foto: Takabi
[Consolation]

1. Yuichiro Yamagami
2. Kenji Takahashi
3. Toru Kuwabara
4. Osamu Sasaki
Foto: Takabi
More pics of a prize-giving ceremony are on the official web page of the event.
I'm looking forward to go Portugal with Japanese Team.
Shota Onishi

-------------------------
Thanks Shota! Meet you in Santa Cuz!


Pode revisitar o report de 2007 que Shota nos enviou clicando em baixo:




Boas ondas!

luis pedro abreu
http://www.kayaksurf.net/

Etiquetas: JAPÃO, KAYAKSURF, MEDIA PARTNER, NEWS TEAM