NEXT INTERVIEWS / ALREADY CONFIRMED
PRÓXIMAS ENTREVISTAS JÁ CONFIRMADAS
Spencer Cooke (de azul) / Foto: Riot Kayaks



A entrevista do designer da RIOT responsável pelas novas máquinas de surf da conhecida marca canadiana, estará online esta sexta feira. Grande oportunidade para vermos a opinião de um grande shaper e intenso conhecedor da canoagem em geral. Próximas:
Next interviews already confirmed: Spencer Cooke presenting us the brand new surf machines made by RIOT -

online this friday with full english version available

. Then Francisco Saraiva, well known portuguese waveskier and for last, but not the least, Vince Shay presenting us his NEW waveski and kayaksurf filming productions.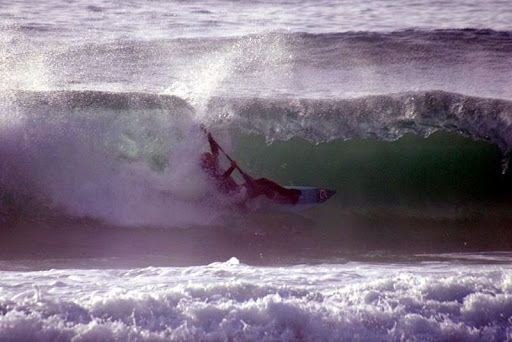 Francisco Saraiva / Foto: Sofia Barata


Francisco Saraiva. O homem da primeira escola de waveski do país e grande mentor do encontro de Ribeira D'Ilhas dá-nos a sua visão sobre a modalidade no nosso país. Participou no recente Europeu na Irlanda e tem muitas histórias para nos contar...


Vince Shay / Foto: VSM


É um autêntico guru da cena mundial de kayaksurf e waveski. Jornalista, fotógrafo, designer e grande surfista, Vince é também elemento da nossa NEWS TEAM. Desta vez, fala-nos sobre os seus mais recentes filmes de waveski - que iremos ter na SESSION deste ano - e sobre a eterna questão: waveski ou surfkayak? Grande entrevista...



CIRCUITO BRASILEIRO DE CANOAGEM EM ONDA
BRAZILIEN CIRCUIT OF PADDLING SPORTS
Boas ondas!
luis pedro abreu
www.kayaksurf.net
Etiquetas: KAYAKSURF, NEWS TEAM, PROMO ENTREVISTA, WAVESKI