KAYAKSURF IN COSTA RICA WITH ALEJO PACHECO
KAYAKSURF NA COSTA RICA COM ALEJO PACHECO / JUNHO 09
Alejo Pacheo, Costa Rica / Fotos: Alfonso Petrirena



É talvez das fotos mais bonitas que publicámos até hoje e faz parte de uma sequência de 7 imagens inacreditáveis em que Alejo Pacheco - autêntico embaixador do kayaksurf da Costa Rica e elemento da nossa NEWS TEAM - faz um tubo de sonho num mar de luxo. Esta foi tirada em 2007 mas esta semana Alejo enviou-nos mais umas sequências de uma surfada no passado fim de semana. A resolução é muito baixa... mas dá para vermos que Alejo continua em grande forma!
Alejo Pacheco lives in Costa Rica and every time he sent us photos, is always fantastic! Great waves, beautiful surf and a dam wish to visit Costa Rica! The two photos with best resolution are from 2007 but the small ones, are from last weekend. We can see that Alejo continues in great shape!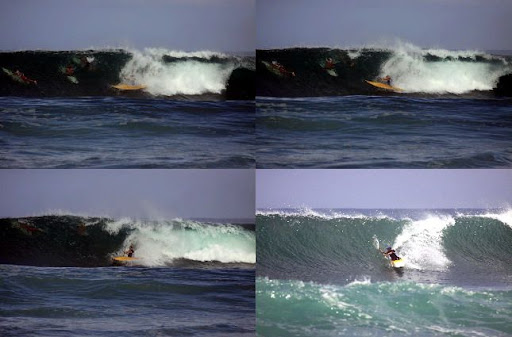 Alejo Pacheco / Junho 2009



Junho 2009


Março 2007



Alejo Pacheco



VÍDEO DE ALEJO A SURFAR NA COSTA RICA COM QUASE 165.000 VISITAS NO YOU TUBE

/ GREAT VIDEO WITH ALEJO PACHECO WITH ALMOST 165.000 VIEWS ON YOUTUBE




Gracias Alejo!


A REDE DO KAYAKSURF.NET

/

KAYAKSURF.NET FRIENDS
Boas ondas!
luis pedro abreu
Etiquetas: COSTA RICA, KAYAKSURF, NEWS TEAM