SANTA CRUZ KAYAKSURF FESTIVAL 2010
SCKSF 2010 / CARTAZ OFICIAL COM DAVE SPELLER by TIM HARVEY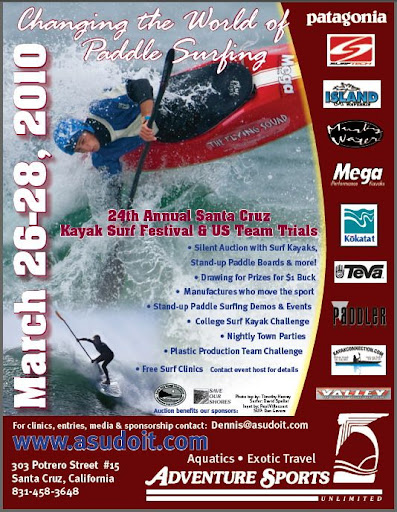 É o cartaz oficial da prova de Santa Cruz, Califórnia, para 2010. Nos anos anteriores o eleito tinha sido Chris Harvey. Este ano, o actual campeão mundial de kayaksurf open (HP) , Dave Speller, ilustra o cartaz numa fantástica foto de Tim Harvey. Em baixo uma das fotos com o vencedor do ano anterior (Chris Harvey) e um dos vídeos da edição do SCKSF de 2009.
Podem ainda recordar o REPORT somente com os resultados
AQUI
. Para visitar site oficial do evento, só só clicar
AQUI
.
It's the oficial poster for 2010 edition of the infamous SCKSF. Last two years we had Chris Harvey on the poster but, this year, Dennis choose Dave Speller - former World HP Champion. Below, you can see a picture with Chris from last year and one video from 2009 edition.
Chris Harvey / Santa Cruz / 22.03.09 / Photo: Larkin Donley




KAYAKSURF.NET

+

FACEBOOK
Boas ondas!
luis pedro abreu
Etiquetas: CALIFORNIA, KAYAKSURF, MEDIA PARTNER, SCKSF 10, USA WEST COAST, WAVESKI