WAVESKI / Meet Bernie Huigsloot by Shaun Holmes
Bernie Huigsloot por Shaun Holmes / O Homem forte da Solamanzi apresenta-nos mais um craque dos waves


Shaun Holmes é o homem forte da Solamanzi e tem colaborado connosco em algumas matérias que envolvem o que mais gosta de fazer... surfar com o seu waveski. Desta vez, apresenta-nos Bernie Huigsloot. A história de uma surf trip até à meca das ondas perfeitas: Indonésia.



Shaun Holmes is the strong man of Solamanzi. He usually collaborates with us about the waveski scene news. This time, he presents us a great rider named Bernie Huigsloot and the story of a special surf trip till the waves paradise of... Indonesia. Enjoy it ;)



------------

Travel and adventure, pushing the boundaries of the sport, quietly... till now!
by Shaun Holmes

In my constant search to find inspiring people, whom are thrilled by life and all it offers, I stumbled across a few pictures in the Waveski group I run on Facebook, which blew my mind. The Man in the pics as it turns out is Bernie Huigsloot and he ROCKS! This is one of the very few times I have actually thought to my self, wow that guy get slotted! Actually rides a barrel on a waveski, something which is still a scarcity even today.
Read a snippet of his journeys to the Indonesian islands where he has been honing his tube riding skills for the last few years.
"The first time I went to Bali, Indonesia, was with my wife, Tania, in 1992 as a small stop over coming back from Europe. After a week of small waves I woke up one morning to find all the back reefs breaking as big as I've ever seen them. I only had a "Gun" board to surf on. After getting a few nice barrels at what I found out to be Kuta reef, I paddled back to Kuta beach which was quite heavy indeed. A rouge wave came through and even though I thought I was too deep to make it, I back-doored a massive section and when I came out it was going to closing out. It was probably the biggest, widest, heaviest barrel I've ever been in. It was just too heavy to outrun, and when the lip landed right on the back of my board, it blasted me about 10 ft in the air, and after swimming to the beach, I found my board had a ripped out fin box and both foot straps were pulled out also. That was my last wave that year.
After many years of running businesses, kids ect, We finally returned in 2004 and I was with a mate called Marty, who rides a Mal. After having a few surfs at Uluwatu, we went off to G-land for a surf trip. I've always done the all night overland trip because I'm too tight arse to pay $100.00 U.S and extra night accommodation for the fast boat. I've never managed much sleep on the overland, though.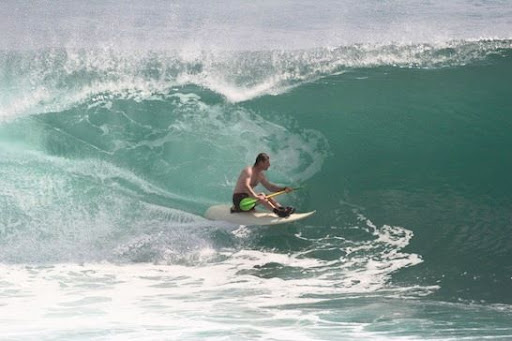 On our first surf, it was mainly the Kong's part of the wave, about 3-4 ft with some incredibly long rides. At the end of the surf, the tide was getting a bit too low and my mate Marty pulled into 1 barrel too many and got himself scraped along the coral reef which kept him out of the water for four days, poor guy.
The camp is in the jungle and only the workers, other camp guests, the occasional school groups from Java and the local nomads picking food off the reef are there. Quite peaceful and away from all the tourist mecca you get in Bali. I always stay at Bobbies , which I believe is the best camp with the best food and crew.In the jungle, you are surrounded by monkies, wild deer, large lizards and boar, big cats,(some say tigers, but they haven't been sighted in the last 10 years.)
After several great fun surfs through the week, it became evident that this place gets much better. The reef spans the best part of 1 mile and even more, if you want, when it gets big. I had to come back!! When I returned to Bali, I was all excited on the prospect of good big waves for the next day. I was with Tania, when I fell into one of those open pits in the street and impaled my leg on 10 cm steel rod. Then I spent the next 2 weeks recovering on crutches. Even though I survived the harsh reef at G-land, I recon I paid my dues that day for many surfs to come.
The following year I booked in again. This time a little later in the year and during the more favourable high tides. This time I travelled alone and met a guy from Newcastle who rode a ski as well. This time the waves were bigger and we were surfing the more fabled Speedies and Moneytrees section of the reef. Kongs was also a lot bigger this year too. Wow! This is what I wanted, and I realised then that I was hooked and I would be coming back each year to try and get "The best wave I ever surfed" It didn't happen this year either, but I definitely got a taste of what it could be like!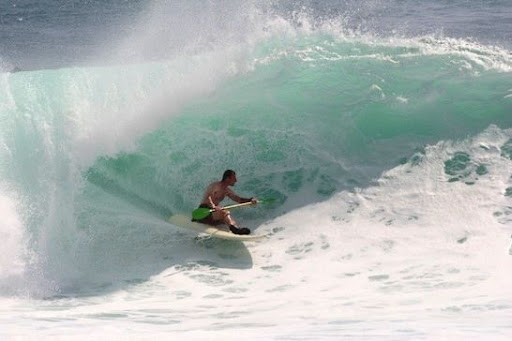 The wave certainly has a lot of power, and on the bigger ones, if you don't lose your board from the wipeout, sometimes you wish you did. Lucky I only surf the big stuff at hight tide (a bit of a rule of mine), because 2 wipeouts dragged me all the way to the lagoon, a feat which involved 2 separate breaths of air before getting dragged further. At low tide, you would end up on the razor sharp coral reef, high and dry.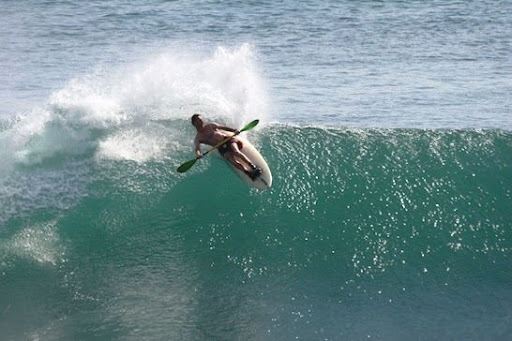 I managed to get to Bali in one piece and this time had several good surfs at the airport reefs…
Bernie Huigsloot "
----------
Thanks to Bernie for the captivating story, he is available on Facebook and is very friendly. I am sure if you asked nicely he may even share some of his hard earned knowledge if you are thinking of a trip.
Shaun Holmes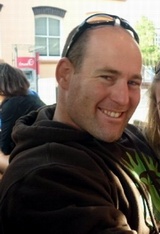 Boas ondas!

luis pedro abreu
http://www.kayaksurf.net/
Etiquetas: SURF REPORT, WAVESKI