BORDER WAVESKI Trial # 5 Queensberry Point, South Africa
WAVESKI ÁFRICA DO SUL / Report da prova de Queensberry Bay




Andre Burger



Shaun Holmes é o homem forte da Solamanzi e tem-nos enviado alguns reports sobre os eventos de waveski directinhos da África do Sul. País com tradições seculares nos desportos de mar, toda a costa reúne grandes spots de surf. Fica o report publicado igualmente no site de Shaun e que é assinado por
Gareth Evans
(a prova decorreu no fim de semana de 23 de Maio).
Shaun Holmes is the front man of Solamanzi and usually sends us the latest news about some waveski comps in South Africa. This one is about a contest that occurred in latest May. It's also published in Shaun's website and signed by Gareth Evans. Enjoy it!

-----------



BORDER WAVESKI Trial # 5 Queensberry Point



Hi All

Here is the latest Border Waveski Trial report form The Kiwi in South Africa, Gareth Evans. for more information about this crazy Kiwi visit
Gareth Evans Waveski Homepage
.




GARETH EVANS

A cool breeze gave me a morning shiver as I loaded my ski onto Doug's truck. As we cruised the patchy tarseal out towards the Wild Coast resorts, the sun rose blood red - a true african sunrise - I've never seen the like in New Zealand.
We trudged down the beach to the point, dragging all our gear with us and the comp flag. The surf was medium sized and setty, not quite clean with the East wind the previous day and a light North breeze. It is another of those waves that seem to set SA surfing in another league from NZ. Everyone rocks up to a comp at this sharp point with a wave wrapping round into a narrow, deep bay. Consequences of getting smashed are a fast, hard ride into semi-submerged rocks or worse - up onto the dry rock point. No-one complains or thinks it's anything other than business as usual, whereas this would be an expert only break in NZ and I'm pretty sure no comps would be held there. A bash to the head and a broken paddle, some bumps over rock - par for the course out here. It's quickly evident that Mike is very at-home in reef breaks and not just at Nahoon Reef. His positioning and reading of the waves is spot-on and consistent - and that's the hard thing at this wave today - consistency - as the waves are coming in and breaking at different angles with some nasty close-outs on the inside if you choose wrong.
Dave
A pre-comp warm-up at mid-tide and cleanish large waves was probably the best part of the surf, with the first few heats getting some good size sets. After that, it got more choppy and lulls between sets got longer, sometimes a whole heat suffering from poor surf. But, as the photos clearly show, there were waves and the faces were clean.
Most improved surfer - would have to be, Craig Powell. Last comp he got back in the water for the first time in a while and looked a bit shaky. This comp he just got better and better with consistent solid moves through the lip in critical sections.
Young Ruan goes so hard, he really puts it on the line. His head paid the price as he washed into the rocks, but he just shook himself and paddled back out, turned round and took another late drop and big move.
Craig

Chris has broken something at the last two comps now, a crack through his ski at the last one and this time a snapped paddle. He C1'ed (kayaker term for using one paddle blade) it in and Craig rushed him out a spare. He was also straight back out and into big moves. (Shaun - I have surfed with Chris for nearly 15 years and he is always breaking stuff, he goes very hard all the time!)
Andre
The surfing from everyone from the young to the old, and the ladies was just impressive. It would have been good anywhere, but on this break it showed commitment and style. It was great to see some new faces at this comp. Waveski is definitely still alive when you can field such a range of ages and solid abilities throughout.
Andre
Queensberry itself is a lovely spot - with fishing, swimming in the bay, clean water and good surf. The choice of surf spots when you get to the carpark is good, with Glen Eden on your right, good in a N wind with a point break and beach break option, and Queensberry on your left - prefers a W wind. There are also plenty of reef breaks of varying quality and make-ability in between that look worth a try in the right conditions.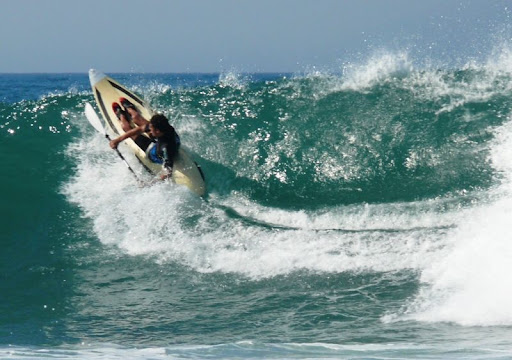 Ruan

The wind stayed light, it was hot and cloudless and the water was comfortable enough that many surfed in shorts only. Two huge airs for the day were captured on camera - one from Dave that followed through to a clean landing and one from Ruan that looked great until the landing. Maybe we should have a Big Air Competition, see how high we can go when that is the only requisite.



Chris

Two heats and then a final meant the comp was over in a reasonable period. The final was hotly contested in average surf. I haven't had results yet, but again Mike was so consistently pumping out solid rides I'd have to say that I don't think there would be much question around the winner.

cheers
Gareth Evans
---------------------------------
Thanks Shaun!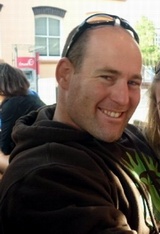 Etiquetas: PHOTOS, SOUTH AFRICA, SURF REPORT, WAVESKI