WORLD CUP FINALS / RESULTS 1ST DAY / RUSTY SAGE REPORT
TAÇA DO MUNDO / RESULTADOS 1º DIA / REPORT DE RUSTY SAGE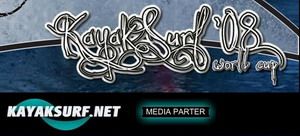 Roberta Borsari, Santa Cruz Ocean Spirit / 19.07.08 / Foto: www.cardeli.com / Ocean Spirit
Aí estão os primeiros resultados da Taça do Mundo que está a decorrer em França. Destacam-se, para já, as prestações de Dave Speller nos Juniores, Chris Harvey nos Homens e Roberta Borsari, nas Mulheres.
Simply said, an amazing day of competition. Clean 3-6 foot waves with an offshore breeze and sunshine all day added to the enjoyment and spectacles of kayak surfing. Ibon and Xabier (age 19) from the Basque Country showed the world that the future is now by placing 1st in both of their respective heats of men and to Roberta Borsari, the Female Brazilian surfer, setting the bar for the women, earning the highest point total. Today saw round 1 of Men and Women complete with rounds 2 and beyond planning on going tomorrow.
The junior's have completed both of their rounds with the semi finals set. A new comer to the field Adam Harvey (age 15), younger brother to Chris "Air" Harvey, making the Semi's going against top seeded Sam Davenport out of England. Sam and current World Champion, David Speller, have been putting on a show by demonstrating their overall skills in the surf and making it to their next respective round in the Sr. division as well.
Weather and swell permitting, tomorrow will see the completion of the Junior event, crowning the next Jr. World Champion. There will also be the completion of the Men's rounds 2 through the Quarter-Finals.
Enjoy

Rusty Sage
--------------

Dave Speller / Foto: Steve Childs
Chris Harvey - Foto: Tim Harvey
Thanks Rusty!
Boas ondas,
luis pedro abreu
www.kayaksurf.net
Etiquetas: WORLD CUP 08