FREESURF MAGAZINE / MAY EDITION / NATHAN EADES FOCUSED
FREESURF DE MAIO / NATHAN EADES EM DESTAQUE NA SECÇÃO KAYAKSURF.NET


A edição nº 11 da FREESURF já está nos locais habituais de distribuição - lojas de surf, associações académicas, Ericeira Surf Shop, Escolas de Surf, etc. Na edição deste mês, o destaque na secção kayaksurf.net vai para o galês Nathan Eades. O artigo intitulado "Quando a competição não é o mais importante" dá-nos uma visão sobre o perifl do "yellowboy". Ressalve-se que Nathan é o nosso próximo entrevistado. O mote é a sua mais recente surf trip pelo Equador e Perú. Imperdível.

FREESURF Magazine is already available and on kayaksurf.net section, the main focus of this 11th edition, is Nathan Eades. The welsh is on the news due his last surf trip - Ecuador and Peru. Soon, his interview will be online here on kayaksurf.net with english version.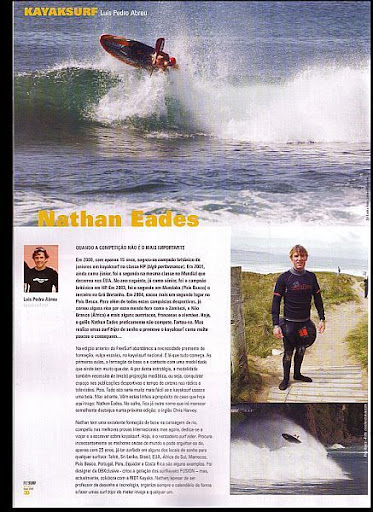 MUNDIAL DE KAYAKSURF 09 / SURFKAYAKING WORLDS 2009 / INDIVIDUAL REGISTRATIONS
Boas ondas!
luis pedro abreu
www.kayaksurf.net