PLASTIC SURF KAYAK CHAMPS / AUGUST 22, 23 / SURF REPORT
PLASTIC SURF KAYAK CHAMP / SW INGLATERRA / 22 e 23 AGOSTO / SURF REPORT por JOHN WATSON
Ride! / Photos: Caroline Janganant



Decorreu no passado fim de semana de 22 e 23 de Agosto na praia de Woolacombe, Norte Devon no SW da Inglaterra. A MEGA lançou a ideia e o evento já vai na sua quarta edição. Este ano teve a particularidade de contar com uma competição por pares. O kayaksurf.net foi Media Partner da prova e John Watson enviou-nos o surf report com fotos de Caroline Janganant.

It's the 4th edition of this event. It was on the weekend of 22 and 23th of August, Woolacombe Beach. Mega Kayaks was the major support of the event. Check out John Watson report with photos of Caroline Janganant. Enjoy it!


Woolacombe Beach

CAROLINE JANGANANT
Surf Report by John Watson

Plastic Surf Kayak Champs at Woolacombe beach, North Devon
40 people took part in the Plastic Surf Kayak Champs at Woolacombe beach, North Devon last weekend. With free boats available to use, the event attracted many kayakers to their first surf competition - and they had the chance to surf against each other and England Team paddlers.
After 2 rounds for everyone, then a knockout from quarter-finals onwards, Rich Sims finished with a well-deserved win and a prize of a stay for two in The Thatch Restaurant and Pub, Croyde Bay.
Finalists:

1. Richard Sims
2. Chris Hobson
3. Sam Davenport
4. Philip Watson
Philip and Sam lead the English ranking lists so far this season, with two events still to go.

Most successful newcomer to competition had a surprise too - Sam Jones won a plastic Neutron for two 1st places in the heats and reaching the quarter-finals. At the evening party, everyone went away with something, thanks to the generous sponsorship from Ainsworth, Mega, Nookie and Buff. First prize in the raffle was a composite Neutron RV won by another newcomer, Andy Ryder.
Sunday saw the first Tag-Team Pairs Contest, with 11 pairs entered. Each heat combined 3 pairs, and started with a "Le Mans" style racing start from the beach. One partner surfed whilst the other waited out back. After scoring a wave, the surfer sprints out back to tag his partner, who paddle-twirls above his head to show the judges he's "on". Every surfer is scored separately, and finishes with 1 point for 1st, 2 for 2nd etc, to 6 points for 6th place. The Tag-Team's total score is their points combined. Round Two saw heats with the leading teams drawn against each other, to make the closest competition. Combined points after Round Two gave a clear win for Dylan Petherick and Steve Bowens - good surfing and some devious tactics had won the day!

It made a great fun Sunday morning. Try this format at home and we'll soon have a World Tag-Team Challenge set up!



Late News - Jury's report:



After photographic evidence has been studied from the Tag-Team Pairs at Woolacombe, 23 August 2009, some well-known surf kayakers have been found guilty of ungentlemanly conduct, and banned from Tag-Teams until the next contest!

John Watson



SLIDE SHOW / PHOTOS by Caroline Janganant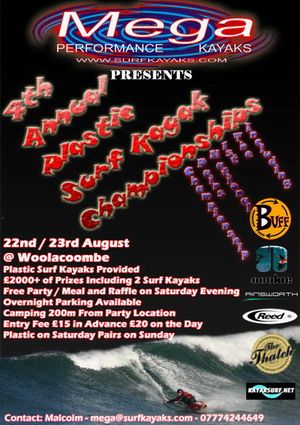 Chris Hobson

Click below and check MEGA:


AUSTRALIA WAVESKI WORLDS / PHOTOS by Penny Bedford
Boas ondas!
luis pedro abreu
www.kayaksurf.net
Etiquetas: ENGLAND, INGLATERRA, KAYAKSURF, MEDIA PARTNER, MEGA, NEWS TEAM, SURF REPORT