WORLD CUP FINALS / DAY 2 and 3 / UPDATES by RUSTY SAGE and ROBERTA BORSARI
DIAS 2 E 3 NA FINAL DA TAÇA DO MUNDO DE KAYAKSURF / REPORTS DE RUSTY E BEBETA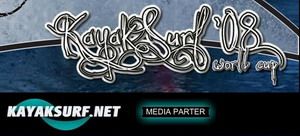 Edu Etxeberria



Photos: Russ Busskirk





World Cup Finals Day 2 Update by Rusty Sage



Today saw another day of beautiful weather and wind. The swell has dropped a bit to 2-4 feet but still holding good form, with the offshore breeze.

The competition heated up as the elimination rounds take place. Ailsa McDougall (JER) showed that she is a force to be reckoned with by posted the highest score for women today. The Semi-Finals are now set for the women, one more round to determine who will be in the Championship round.




As for the Junior's, a hard fought battle between Philip Watson (ENG) and David Speller (JER) in the Junior Semi-Final ended with a last minute high scoring wave from Speller to clinch a spot in the Finals. Sam Davenport (ENG) and David Speller will meet in the Junior Final to determine the World Cup Champion.




The Men's division made it through the middle of Round three before the conditions made it too difficult for competition. However, there were some impressive heats of intense competition throughout the day, Pete Blenkinsop (ENG) and James Hawker (ENG) worked their way from Round two, to solidify a spot in the Quarterfinals, along with Junior Finalist Sam Davenport (ENG).




With one day left of competition the Worlds best Kayak Surfers will compete in head-to-head single elimination format to determine the next World Champion.

It appears that the remaining swell is dying out and there maybe a day or two of rest for the competitors as we wait on another swell to arrive.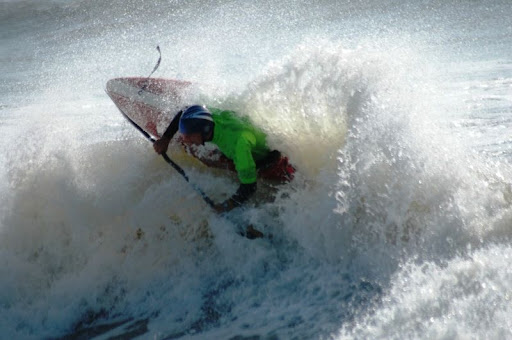 Dave Speller
Thanks Rusty!
----------------------------------------------------

REPORT - ROBERTA BORSARI




Depois da estreia, as duas competições: Copa do Mundo e prova inglesa por equipes seguiram em frente. Foram disputados mais rounds do feminino, junior e masculino. O mar baixou, o que dificultou a realização da prova, pois todos querem que a Copa seja disputada com boas ondas. Hoje tivemos um dia de pausa, sem baterias.

Estas "janelas" como costumamos chamar estes dias, são programados pela organização para que a competição seja realizada com as melhores condições de onda durante a semana escolhida para o evento. Os competidores se dispersaram partindo para conhecer outros picos da Ile Doleron e do continente.


GATH

Neste dia livre eu parti com a (sempre divertida) equipe Basca para o continente para conhecer mais uma praia, desta vez uma parte da costa mais selvagem. A previsão e da chegada de swell no final de semana e estamos todo no aguardo para realizar as semis e finais!


Pormenor da Vila d'Oleron

Diferente dos Mundiais, onde até a última bateria a disputar acontece entre 4 canoistas, na Copa, partir das semi-finais, as baterias sao disputadas entre 2 competidores e apenas um deles segue para a fase seguinte, no caso, a grande final.

Entre as mulheres, para a disputa das semi-finais temos, em primeiro lugar Tamsin Green, (atleta da Inglaterra), que disputara com a quarta colocada Kristina Ferrer do time Basco e a Ailson (segunda colocada), residente da Ilha de Jersey e veterana das provas internacionais de kayaksurf disputara comigo (terceira colocada) a vaga da final.
Obrigado Bebeta!



Boas ondas para as finais! All the best for the finals!
luis pedro abreu
Etiquetas: WORLD CUP 08