JAPAN OCEAN FREESTYLE KAYAK CHAMPIONSHIP / REPORT by SHOTA ONISHI
CAMPEONATO JAPONÊS DE KAYAKSURF/FREESTYLE - REPORT de SHOTA ONISHI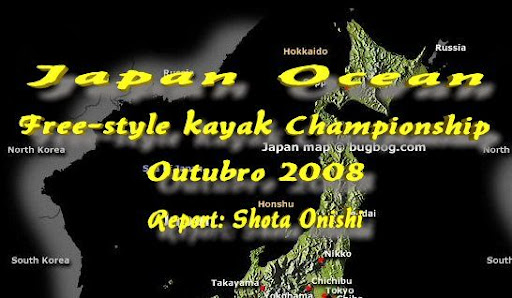 Shota Onishi é um habitual colaborador do kayaksurf.net e, juntamente com Toshi Nagaoke, constituem a nossa equipa de NEWS directamente do Japão. Em terras e ondas do sol nascente, aí está mais um report directinho de uma prova realizada na semana passada. Objectivo do evento: captar canoístas do freestyle para o kayaksurf puro e duro. Vamos ao report de Shota:

------------------



"Japan Ocean Free-style kayak Championship - 05.10.08"



"Japan Ocean Free-style kayak Championship" is the event with a long and distinguished history. This event contribute development paddle surfing and exchanging between free-style paddlers and kayak surfers.






Basic information of the event is:



Supervisor:Japan Free-style kayak association
Host:Free wave(Ocean paddling Club)
Sponsors: Aoki Conoe Works
Wiz-nature
Koa Outfitters
Seek Trues
Soltys
Takashina Life Preservers Co
Perl Kinzoku
Playboating@jp
Conoe Life Magazine
Bellcadia
Land Art

Date:2008 Oct 5th
Venue:99 beach,Chiba




In the morning of the day,slightly off-shore wind blew.In the afternoon,wind direction turned on-shore. And face of the wave was bumpy. It was hard to find good wave.But some competitors attempted big moves.




Results:

[Men's Playboat](contestant count:21)
1st. Takashi Kimura
2nd. Takahiro Tanaka
3rd. Yosinari Sato
4th. Eiji Oniki

[Women's Playboat](contestant count:4)
1st. Fumiko Kimura
2nd. Yoko Kuramuki
3rd. Risa Yarita
4th. Ayako Tsukahara

[Surfkayak](contestant count:15)
1st.Shota Onishi
2nd. Takafumi Otake
3rd. Takehiro Jogo
4th. Masaru Igarashi

[Sit on top](contestant count:6)
1st. Tsutomu Suko
2nd. Masashi Fukuoka
3rd. HIroaki Kano
4th Ayako Tsukahara




Miyazaki Cup will be held in next month.I hope I will tell you good news again.

Shota Onishi

----------------------

Thanks a lot Shota! We'll wait for the Miyazaki report!




Boas ondas,

luis pedro abreu
http://www.kayaksurf.net/
Etiquetas: COMPETIÇÕES, JAPÃO, KAYAKSURF, NEWS TEAM