MUNDAKA KAYAKSURF CONTEST STARTS TOMORROW!
CAMPEONATO DE KAYAKSURF DE MUNDAKA / COMEÇA AMANHÃ! / REPORT



É uma das mais conhecidas prova de kayaksurf da Europa e é lá que muitos dos maiores craques do kayaksurf actual disputam heats e enfrentam a poderosa onda (quando funciona!). O kayaksurf.net já apoia o evento há vários anos e, apesar de não podermos lá estar este ano, os reports já começaram a chegar.

Dessie McGlinchey, Northern Ireland Team, diz-nos que ontem, quinta feira, não havia ondas em Mundaka mas que, para este sábado, estão esperadas ondas de 2.4 mt!! O team norte-irlandês está a competir com 3 séniores - Jonny Bighnam, Gerry e Dessie - mais 3 juniores: Corin King, Jake e Andy. Ficam algumas fotos de Oskar martinez (elemento da organização da prova) a surfar em Bakio (perto de Mundaka). As fotos são de Juan Lazkano - olasdevizcaya.com.

Dessie McGlinchey (Northern Ireland Squad), is alreday in Mundaka for this year comp. Yesterday there were no waves but, for tomorrow is expected a great swell. Here is the first report and then, some photos with Oskar Martinez surfing in Bakio (photos by Juan Lazkano - olasdevizcaya.com ).

Dessie McGlinchey reports:

"Well we arrived in Mundaka today (yesterday, thursday) and there was no waves. We are hoping there will be a small wave a low tide in the morning. The forecast for sat is for up to 8ft on the face, so for once there will be something exciting to report from Mundaka. (...) There are six paddlers from NI over for the contest. 3 seniors and 3 juniors. Jonny Gerry, Corin Jake Andy and myself. Dessie"


OSKAR MARTINEZ / BAKIO / APRIL 2009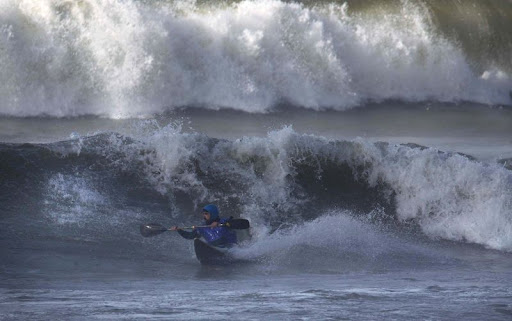 Thanks ot Dessie and Oskar!! All the best for the comp!!



WATERTECH NEWS / MUNDAKA KAYAKSURF CONTEST

Boas ondas!

luis pedro abreu
http://www.kayaksurf.net/

Etiquetas: KAYAKSURF, MEDIA PARTNER, MUNDAKA 09, NEW GENERATION, SURF REPORT