WORLD KAYAKSURF 09 REPORT / RESULTS FROM THURSDAY AND PROGRAM FOR TOMORROW
MUNDIAL DE KAYAKSURF / RESULTADOS de QUINTA FEIRA E PROGRAMA PARA AMANHÃ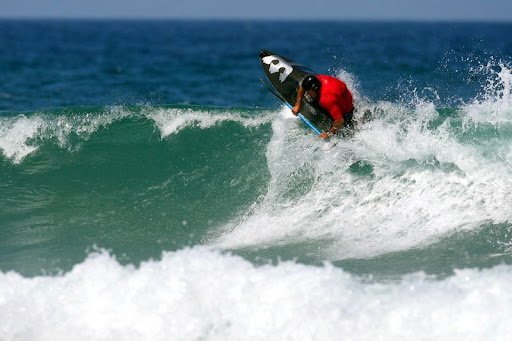 Bruno Melo by cardeli.com

Ao sexto dia de competição no Mundial de Kayaksurf já temos um campeão – Gary Adcock. O inglês sagrou-se vencedor na classe Individual Masters IC suplantando o seu mais directo adversário Jim Grossman, dos EUA Oeste. Os heats tiveram início às nove da manhã e decorreram, como habitualmente, distribuídos por dois spots na Praia de Santa Rita. Swell algo desordenado com sets de ondas potentes, fizeram nadar alguns dos atletas da manhã. Hoje só tivemos baterias que contabilizam para a classe "Individual".

A única final foi nos Masters IC porque, nas restantes categorias, foram disputados os quartos de final e algumas meias finais. Os nomes mais sonantes de todas as classes continuam em prova mas alguns, já foram excluídos. Jonny Bingham, o norte irlandês campeão do Mundo em HP 2005 e múltiplas vezes campeão da Irlanda do Norte, não superou os seus adversários e disse adeus mais cedo ao Mundial.



Miguel Carvalho / kayaksurf.net

Nos portugueses, destaque para o júnior Miguel Carvalho, que venceu a sua bateria nas meias-finais em Individual HP. A final será uma interessante disputa entre o Miguel e o norte-irlandês Corin King que ainda este ano venceu Mundaka na sua classe. Os outros dois atletas que estarão com eles na água serão Adam Harvey (Jersey) e Jordan Thomas (País de Gales). Claro que, apesar dos primeiros serem os favoritos, tudo poderá acontecer!



Bruno Melo / kayaksurf.net

Nos Masters HP, Bruno Melo foi eliminado após a terceira posição obtida no seu heat. O actual campeão nacional de kayaksurf e waveski e mentor do Ocean Spirit, esteve em segundo várias vezes mas, nos minutos finais do heat, o inglês Gary Adcock saca uma onda que lhe tirou as hipóteses de progressão. Em suma, resta-nos apoiar o nosso júnior Miguel Carvalho que amanhã estará nas Finais!



PROGRAMA PARA AMANHÃ



08.30h - Meeting com os atletas
09.00h - Início da competição com todas as classes na categoria "Equipas".



TODOS OS RESULTADOS DE 30 DE JULHO

-
CLICAR AQUI
!



EMISSÃO EM DIRECTO / OCEAN SPIRIT TV

-
AQUI
!

Mais fotos de Tim Harvey e kayaksurf.net em baixo.

-------

Sixth day of competition and the final results move closer! Gary Adcock was the todays winner in the Individual Masters IC over Jim Grossman - the most direct opponent. The heats started at 9.00 am e were running in both sites, as usual. The swell was desordered but powerfull with great sets of waves. There were several athlets swimming!

Most of the favourite surfkayakers continue on the competition but some were already eliminated - Jonny Bingham, for instance, is already out and tomorrow (and saturday morning), there will be incredibel heats!



PROGRAM FOR TOMORROW



08.30h - Meeting with Athletes
09.00h - Competition starts / Division "TEAM EVENT".



ALL THE RESULTS UNTILL 30th JULY

-
CLICK HERE
!



ALL THE EVENT LIVE ON OCEAN SPIRIT
TV HERE
!

You can check some more reports on:

http://nisurfkayak.com/blog
http://www.drugfreelifestyle.com
http://jbkayak.blogspot.com
http://www.eskasurf.com
http://www.jacksonkayak.com/articles/article.cfm?directory=articles09&article=200907243
http://www.surfkayaking.com.au/surf_kayaking/world_surf_kayak_champs_2009.html

Below, you can see more photos by Tim Harvey and kayaksurf.net. Enjoy it!



TIM HARVEY

If you want these or others, there are many more photos on display at Tim website, http://www.photof8.co.uk/ , and that if anyone wishes, you can buy copies from Tim Harvey (either prints or electronically).


PHOTOS KAYAKSURF.NET FROM TODAY

Bruno Melo after left his heat



Paulo Schmidt, head judge, with all the judges of our comp.



Media exposure



Canada Team

Thanks for the photos Tim!





CAMPEONATO MUNDIAL DE KAYAKSURF 09

/

WORLD KAYAKSURF NEWS



Boas ondas!

luis pedro abreu
http://www.kayaksurf.net/
Etiquetas: KAYAKSURF, MEDIA PARTNER, MUNDIAL 09, PORTUGAL, WORLDS 09