WORLD KAYAKSURF 09 REPORT / RESULTS FROM WEDNESDAY AND PROGRAM FOR TOMORROW
MUNDIAL DE KAYAKSURF / RESULTADOS de QUARTA FEIRA E PROGRAMA PARA AMANHÃ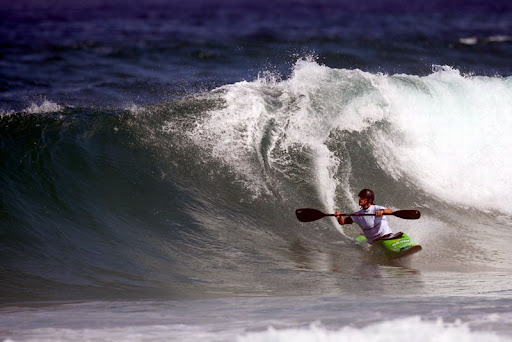 Xabi Olano / Basque Team / Photo: cardeli.com

5º dia de Competição e o Mundial começa a fazer as primeiras baixas. Hoje, depois de alguns heats de Masculinos HP que ficaram por fazer do dia anterior, o dia foi preenchido com todas as categorias em jogo na classe "Team Event", ou seja, por equipas. Portugal, Irlanda, Japão e Galiza foram hoje excluídas das 12 inscritas porque não reuniram os pontos necessários para progredir. Para além da pouca sorte, estas equipas sofreram 5 pontos de penalização por cada categoria que não tinham representada. As ondas funcionaram todo o dia com um excelente dia de praia. Os heats foram refeitos devido à exclusão das quatro equipas, e tudo correu conforme o previsto.

Na parte social do Ocean Spirit, tivemos hoje a visita de várias escolas (Actividades de Tempos Livres) e, no final do dia, um animado mini-torneio de kayak polo com formações de Portugal, Irlanda, País Basco e Inglaterra. Quem ganhou? Todos. O importante foi mesmo participar e confraternizar com todos os atletas. Vamos agora ao ranking das equipas.

CLASSIFICAÇÃO POR EQUIPAS APÓS O SEGUNDO DIA (29.07)

1- INGLATERRA: 54 pontos
2- Jersey: 62
3- País Basco: 68
4- Irlanda do Norte: 74
5- País de Gales: 82
6- Escócia: 96
7- EUA Oeste: 98
8- EUA Este: 106
(excluídas)
9- Irlanda, Portugal, Galiza e Japão.

A pontuação é obtida pela soma dos resultados obtidos nos heats por parte de todos os elementos da equipa. Cada categoria não representada de uma equipa equipa, é penalizada com mais 5 pontos adicionados ao total obtido.



PROGRAMA PARA AMANHÃ



08.30h - Meeting com os atletas
09.00h - Início da competição com todas as classes na categoria "Indivual".



TODOS OS RESULTADOS DE 29 DE JULHO

-
CLICAR AQUI
!



EMISSÃO EM DIRECTO / OCEAN SPIRIT TV

-
AQUI
!

Mais fotos de Tim Harvey e kayaksurf.net em baixo.

-----------

5th day of the Worlds and today, wednesday, we had the first teams excluded. After some Men HP heats that remainde from yesterday, today we had all the categories counting for the Team Event. Portugal, Ireland, Japan and Galicia were excluded because tehy don't reached the level of points to go on on the Team Event. Besides the bad luck, these teams were also penalized because they did not have athletes in all the categories. The waves were good during all the day and the wind almost absent. In the middle of the afternoon, we had a small break to remade all the heats due the exit of the four teams. After that, all things went as previewed.

The social part of the event is also running pretty well. Today, we had the visit of several schools and, at the end of the day, a mini-kayak polo competiotion between Portugal, Basque Country, Galicia and England. Who won? ALL! The main objective was really have some fun ;)



TEAM RANKING AFTER THE SECOND DAY (29.07)



1- ENGLAND: 54 pontos
2- Jersey: 62
3- Basque Country: 68
4- Northern Ireland: 74
5- Wales: 82
6- Scotland: 96
7- USA West: 98
8- USA East: 106
(excluded)
9- Ireland, Portugal, Galicia and Japan.

The score is obtained by summing the results of heats for all of the team. Each category not represented on a team, is penalized with 5 more points added to the total obtained. This penalty is particularly strong in teams such as Galicia, Portugal and Japan, because they do not have athletes in several categories.



PROGRAM FOR TOMORROW



08.30h - Meeting with Athletes
09.00h - Competition starts / Categorie "Indivual".



ALL THE RESULTS UNTILL 28th JULY

-
CLICK HERE
!



ALL THE EVENT LIVE ON OCEAN SPIRIT
TV HERE
!

You can check some more reports on:

http://www.surfkayaking.com.au/surf_kayaking/world_surf_kayak_champs_2009.html



Below, you can see more photos by Tim Harvey and kayaksurf.net. Enjoy it!

TIM HARVEY
If you want these or others, there are many more photos on display at Tim website,
http://www.photof8.co.uk/ ,
and that if anyone wishes, you can buy copies from Tim Harvey (either prints or electronically).


Pedro Castro



Dave Du Port



Edu Etxeberria



Edu Etxeberria



Darren Bason



Dave Speller



Nathan Eades~




PHOTOS by KAYAKSURF.NET



Several schools visit all the days the Ocean Spirit Festival



kayak courses for children



Kayak Polo mini Competition



It ocorred in the swimming pool of the event



Steve Farthing from Australia that will write for kayaksurf.net the reports from the next Waveski Worlds in Australia (5-12 September). Thanks Steve!



Great end of afternoon

Thanks once more for the photos Tim!



CAMPEONATO MUNDIAL DE KAYAKSURF 09

/ WORLD KAYAKSURF NEWS

Boas ondas!

luis pedro abreu
http://www.kayaksurf.net/
Etiquetas: KAYAKSURF, MEDIA PARTNER, MUNDIAL 09, PORTUGAL, SANTA CRUZ OCEAN SPIRIT 09, WORLDS 09