WORLD CUP FINALS / WINNERS 2008 / REPORT
VENCEDORES DA TAÇA DO MUNDO DE KAYAKSURF 2008 / REPORT DE RUSTY SAGE
Edu Etxeberria

Terminou no sábado a Taça do Mundo de Kayaksurf que decooreu na Ilha D'Oleron em França. Rusty Sage, actual campeão do mundo de kayaksurf HP e mentor da prova, enviou-nos todos os reports enquanto elemento da nosa NEWS TEAM.
A Mega Flying Squad fez o pleno com o primeiro lugar nas três categorias:
MEN HP
EDU ETXEBERRIA / BASQUE COUNTRY
WOMEN
TAMSIN GREEN / ENGLAND
JUNIOR
SAM DAVENPORT / ENGLAND
Agora, o report de Rusty:
-----------------------------------------
World Cup Finals Surf Kayak



Sept. 20th, 2008

Final Report

As the closing ceremony ended and England claimed the Homes Championship the remaining surfers of the World Cup Finals kept their fingers crossed for one more great day of surf and competition.




As the sun rose we all wondered what the new swell would look like, the swell is predicted to be 2-4 ft at 12 sec. but you can never tell until it arrives. The gods granted us our wish with perfect competition atmosphere: beautiful sunshine, 5-7 knot offshore breeze and head high clean surf.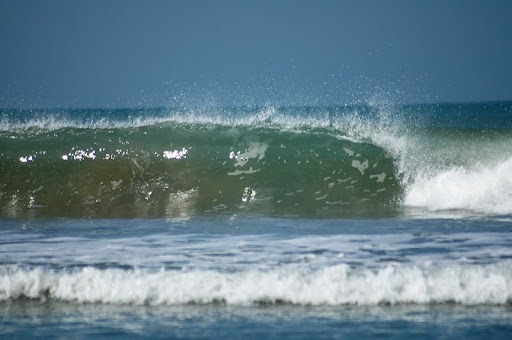 Heats got under way on time and head to head competition completed throughout the afternoon. One of the closest heats of the day was the Women's Semi-Final with Roberta Borsari (BRA) and Ailsa McDougall (JER) with both of them trading the lead back and forth through the heat and Ailsa came away with a half point lead at the end (33.5 to 33), advancing her way to the Finals to meet up with Tamsin Green (ENG), who has been showcasing sharp surfing skills throughout the competition.



Roberta, Tamsin, Ailsa and Kristine / Photo: John Watson


Next up are the Men's Quarter Final match ups. Sam Davenport (ENG) and Pete Blenkinsop (ENG) leading it off, one of the junior finalists making it far against the men, and Pete, the experienced veteran of surf kayaking, going head to head. Sam proved his skills and advanced to the Semis. Another well charged heat is freshly turned senior Xabier Olano (EUK, age 19) and his mentor Edu Exteberria (EUK) going against each other for a semi final slot. Experience came through in this heat, as the waves faded a bit, and Edu showcased his dynamic moves and consistency by edging out his countryman by 2 points (35.5 to 33.5).



Edu Etxeberria
Onto the Men's Semi Final round where the youngster Sam Davenport and Edu matched up for a tight battle for the championship round. Wave after wave they traded high scores and fought the outgoing tide to find quality sections of waves. Edu edged Sam out by 1 point (39 to 38) to make his way to the Finals. In the next heat Chris Harvey and David Speller met with the waves of the day, long peeling glassy head high right-handers met these surfers and they responded by posting the highest scores of the day (47 and 43.5).
David started it off with an incredible ride, long dynamic and controlled radical maneuvers in the critical part of the wave section. Chris answered back with his signature controlled aireal attack, along with several other great waves. The initial deficit proved to be too difficult to overcome and Speller beat out Harvey to make his way into both finals, Jr. and Men.
Sam Davenport
The Final Round, with some surfers surfing in 4 or more heats, endurance proved to be crucial in continuing top performance. The Juniors went off, Sam and David met head to head for the first time in the event, putting on a show for all to witness. Sam's vertical attacks at the lip of the waves overcame David's consistency and Sam was awarded the Title for Junior.
Dave Speller
Sam Davenport / winner junior
Sam Davenport - Photo: John Watson
Tamsin and Ailsa are next for the ladies Final round, Ailsa is able to go right after the lip and score big points with big spray. However, Tamsin showed the consistency and found several waves that lined very nicely and she surfed them to perfection. In the end Tamsin Green received the World Title for the Ladies.
Tamsin Green and Ailsa
Tamsin Green / Phto: John Watson
The Men's Final is now upon us, Edu Exteberria, (EUK) the experienced coach of the Basque team and mentor to many kids that he teaches, and David Speller (JER) the kid from Jersey who is flowing with incredible natural talent and a force that is now present in the men's division. The competitors requested additional time for their heat to ensure that the best waves are selected, the judges are set and the timers are ready as the final heat of the competition is under way. Right off the bat Speller nails a beautiful long wave that showcases his talent by landing every move executed and receives the top initial score. Edu fires back several times with his signature tail slash and spray, as time winds down there are no waves to be found like David's first wave. Then in the final 2 minutes, with good position and priority Edu gets a quality wave that has great potential to shape up, he lines up and in perfect position as he performs a near perfect sequence the earns him the championship. Edu Exteberria is the 2008 World Cup Champion.
Edu Etxeberria
Chris Harvey
England Team - Champions Homes International 2008
Final Thoughts:
Many thanks to all that have helped along the way and who believe in this event, without you this wouldn't be possible. Looking forward to another World Cup in 2010, and stay tuned for more on this and for the World Championships in Portugal in 2009.
Rusty
Photos: Russ Busskirk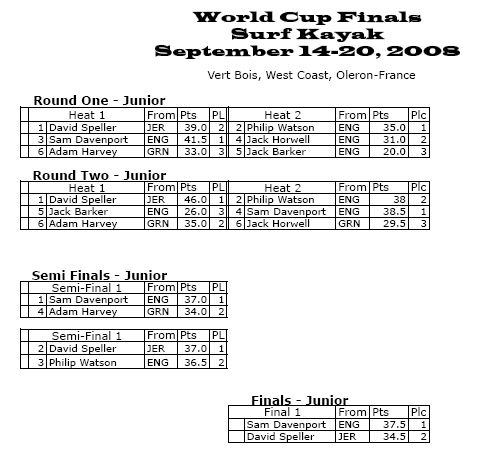 -------------------------------------------------------------

Thanks Rusty and congratulations to all!

Boas ondas!

luis pedro abreu
Etiquetas: WORLD CUP 08