PLASTIC SURFKAYAK CHAMPS / AUGUST 22, 23 / FULL REPORT
PLASTIC SURFKAYAK CHAMPS / 22 e 23 AGOSTO / SURF REPORT by JOHN WATSON
Photos: Caroline Janganant
Decorreu nos dias 22 e 23 de Agosto na praia de Woolacombe, SW da Inglaterra. O kayaksurf.net foi Media Partner e o report de John Watson aqui está. Mais um evento que juntou nomes bem conhecidos do kayaksurf britânico com o alto patrocínio da Mega Kayaks.
John Watson sent us (Thanks John!) the surf report from the Plastic Surfkayak Champ that was held in Woolacombe Beach (England SW) last August. Names well known from the World Team Champion are in it! The photos ate from Caroline Janganant (thanks Carol and Marc). Below, check out all the text sent by John and the slide show with oics from Carol.

Woolacombe Beach
CAROLINE JANGANANT
August 22, 23rd
Plastic Surf Kayak Champs / Woolacombe Beach / Report by John Watson

40 people took part in the Plastic Surf Kayak Champs at Woolacombe beach, North Devon last weekend. With free boats available to use, the event attracted many kayakers to their first surf competition - and they had the chance to surf against each other and England Team paddlers.

After 2 rounds for everyone, then a knockout from quarter-finals onwards, Rich Sims finished with a well-deserved win and a prize of a stay for two in The Thatch Restaurant and Pub, Croyde Bay.
Most successful newcomer to competition had a surprise too - Sam Jones won a plastic Neutron for two 1st places in the heats and reaching the quarter-finals. At the evening party, everyone went away with something, thanks to the generous sponsorship from Ainsworth, Mega, Nookie and Buff. First prize in the raffle was a composite Neutron RV won by another newcomer, Andy Ryder.

Sunday saw the first Tag-Team Pairs Contest, with 11 pairs entered. Each heat combined 3 pairs, and started with a "Le Mans" style racing start from the beach. One partner surfed whilst the other waited out back. After scoring a wave, the surfer sprints out back to tag his partner, who paddle-twirls above his head to show the judges he's "on". Every surfer is scored separately, and finishes with 1 point for 1st, 2 for 2nd etc, to 6 points for 6th place. The Tag-Team's total score is their points combined.

Round Two saw heats with the leading teams drawn against each other, to make the closest competition.
Combined points after Round Two gave a clear win for Dylan Petherick and Steve Bowens - good surfing and some devious tactics had won the day!

It made a great fun Sunday morning. Try this format at home and we'll soon have a World Tag-Team Challenge set up!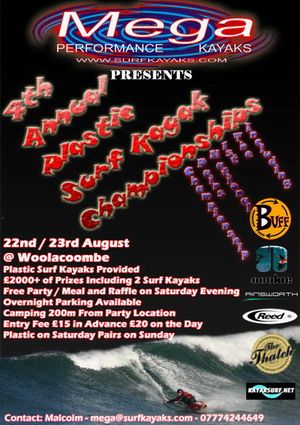 Plastic Surf Kayak Champs
22 August 2009, Woolacombe, North Devon / RESULTS

1. Rich Sims
2. Chris Hobson
3. Sam Davenport
4. Philip Watson
5= Glyn Brackenbury
5= Jon Mount
7= Ed Long
7= Steve Chivers
9= Jack Horwell
9= Robyn Pearcey
9= Tim Holland
9= Andy Hambley
9= Pete Copp
14= Andy Davey
14= Jon Purdey
14= Nathan Long
17= Sam Jones
17= Steve Bowens
17= Mitch Barclay
20= Denzil Pearce
20= Dylan Petherick
20= Harry Uren
20= Rich Berry
24= Lee Royle
24= Nick Kent
24= Paul Hammond
24= Jolyon Kirwin
24= Byron Lewis
24= Mikey Bridges
30= Paul Cook
30= Andrew Ryder
32= Ben Brown
32= Emma Wynter
32= Charles Geeson
32= Aidan Brackenbury
32= Kyle Chivers
32= Peter Login
32= Daniel Lloyd
32= Siobhan Pratt
40 Anna Lancefield
Prize of a plastic MEGA Neutron awarded to Sam Jones - most successful newcomer to competition. Raffle prize of a composite Neutron RV won by Andrew Ryder, also a newcomer to competition. Many thanks to sponsors The Thatch at Croyde, Ainsworth, Nookie, Buff and Mega. Almost everyone was able to go away with a prize.
Tag-Team Pairs Contest, Woolacombe, 23rd August 2009
1st Dylan Petherick / Steve Bowens 7 pts
2nd = Sam Davenport / Jack Horwell 10 pts
2nd = Philip Watson / Chris Hobson 10 pts
4th Denzil Pearce / Pete Copp 12 pts

5th Aidan Brackenbury / Glyn Brackenbury 14 pts
6th = Marc Woolward / Justin 15 pts
6th = Luke Spooner / Ross 15 pts
8th = Robyn Pearcey / Nate Long 16 pts
8th = Andy Hambley / Paul Hammond 16 pts
10th = Jack Barker / Laura 18 pts
10th = Jon Purdey / Andy Ryder 18 pts

Chris Hobson

SLIDE SHOW / PHOTOS by CAROLINE JANGANANT
Thanks a lot John and Caroline! Congratulations for the event.
All about MEGA below:



FREESURF ONLINE

/

FREESURF MAG ONLINE VERSION
Boas ondas!
luis pedro abreu
http://www.kayaksurf.net/
Etiquetas: INGLATERRA, KAYAKSURF, MEDIA PARTNER, MEGA, NEWS TEAM