NEW INTERVIEWS CONFIRMED ON KAYAKSURF.NET
NOVAS ENTREVISTAS CONFIRMADAS NO KAYAKSURF.NET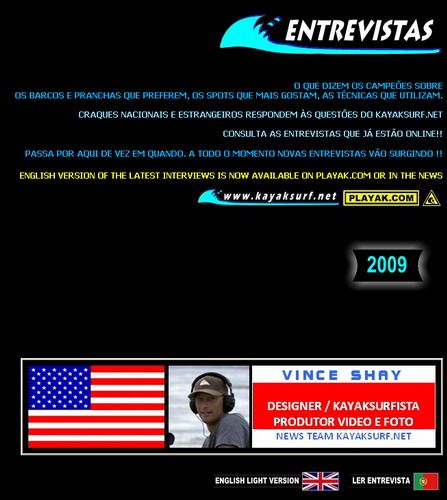 A nossa secção de entrevistas continua a ser uma "recordista" de visitas. Com mais de 100 entrevistas publicadas oriundas de vários cantos do globo, é notória e evolução na tendência dos entrevistados. Se no início grandes nomes dos rios eram presença habitual - Steve Fisher, Corran Addison, Eric Jackson, Mariann Saether, Ben Brown, etc - hoje, os kayaksurfistas e waveskiers ganham por longa margem em exposição mediática. É bom vermos que, em escassos anos, firmaram-se nomes no kayaksurf e waveski que já são praticamente incontornáveis - Darren Bason, Edu Etxeberria, Chris Harvey, Roberta Borsari, Rusty Sage, John Grossman, Mathieu Babarit, Caroline Angibaud e muitos, muito mais. Apresentamos agora as 5 entrevistas que estão já a ser produzidas. Não percam!

During all these years, kayaksurf.net made all the possibles to promote this sport. More than 100 interviews from several parts of this world, made a kind of "wall of fame" of our website. Let us present now the new 5 interviews that are, at this moment, being produced on kayaksurf.net:


Rui Fonseca (RPF Kayaks) e Filipe Alexandre (Figueira Surfing School) falam para o kayaksurf.net sobre a parceria surf/kayaksurf. As aulas de kayaksurf já decorrem na Figueira e, depois Paulo Simões (reponsável pela formação já entrevistado por nós), é vez ouvirmos os dois responsáveis.


Campeão do Mundo em 2005 e detentor de um currículo extenso de vitórias (como, por exemplo, a Expression SESSION 2008 no Ocean Spirit com a melhor manobra), Darren mudou-se da Inglaterra para a Austrália. Explica-nos porque mudou de país e os projectos em que já está envolvido na grande ilha.


Inseridos numa senda de entrevistas que temos vindo a publicar com novos valores do kayaksurf, aí estão mais dois nomes para anotar na agenda: Miguel Carvalho e David du Port. Miguel em 16 anos e David 17. Um é português e o outro é inglês da ilha de Guernsey - praticamente vizinho de Chris Harvey. A apresentação de dois kayaksurfistas da nova geração que hão-de dar que falar!


Vencedor do Campeonato Norte-Americano de Waveski, Fletcher Burton é uma máquina de surfar. Já nos enviou as fotos (luxo) e é fácil perceber que estamos na presença de um dos melhores do mundo do waveski.


PROVA DE KIMMERIDGE BAY

/

KIMMERIGDE BAY KAYAKSURF CONTEST, BCU
Boas ondas!
luis pedro abreu
Etiquetas: KAYAKSURF, PROMO ENTREVISTA, WAVESKI